On 26 March 2021, Australian Organic Limited (AOL) had the pleasure of hosting a seminar at Perfect Potion's HQ in Banyo, QLD.  As part of Organic Earth Week 2021, AOL Research and Education Officer, Amy Stewart, was joined by adventurer, documentary maker, television presenter and businessman Todd Sampson for a lively discussion about Sustainability and Earth Hour, in front of an intimate live and digital audience.
As the co-creator of the global initiative Earth Hour, Todd offered a unique insight into what it means to make a difference.
"Beginning with a small idea hoping to make a small change, we never imagined the impact Earth Hour would eventually have", Todd commented.
The common goal of "convincing individuals that collectively they can make a difference" was at the heart of the initiative. Born in 2006, the Earth Hour initiative was the brainchild of a dynamic group of 11 like-minded individuals, never imagining that by creating "a symbolic event, that it could become a movement."
In the beginning, the combined efforts of the WWF (renamed as the World Wildlife Fund for Nature in 1986), Fairfax, Leo Burnett, State Government and the City of Sydney, saw the lights of Sydney's CBD power down for one hour. Todd describes the first event in 2007 as, "a simple act that would create a positive tipping point." The group could not possibly anticipate what the event would grow to become in the years that followed – "a trickle that became a torrent!"
There can be little debate that understanding what sustainability means in the modern age is no easy feat. When asked about what an individual can do to make a difference, Todd explained that he believes the answer lies in accepting that "sustainability is a mindset". In understanding that sustainable patterns for living must be viewed holistically, opinions and views can start to shift towards a "mindset, rather than an obligation." Change needs to occur through teaching the values of sustainable living. Parents and schools help to ensure that future generations are made aware of the significance of their choices – the Australian Organic Schools program does just this!
The new Australian Organic Schools (AOS) program centres around the cross-curriculum Priority of Sustainability, instilling in students and teachers alike patterns for sustainable living while explaining the reasons for making such choices.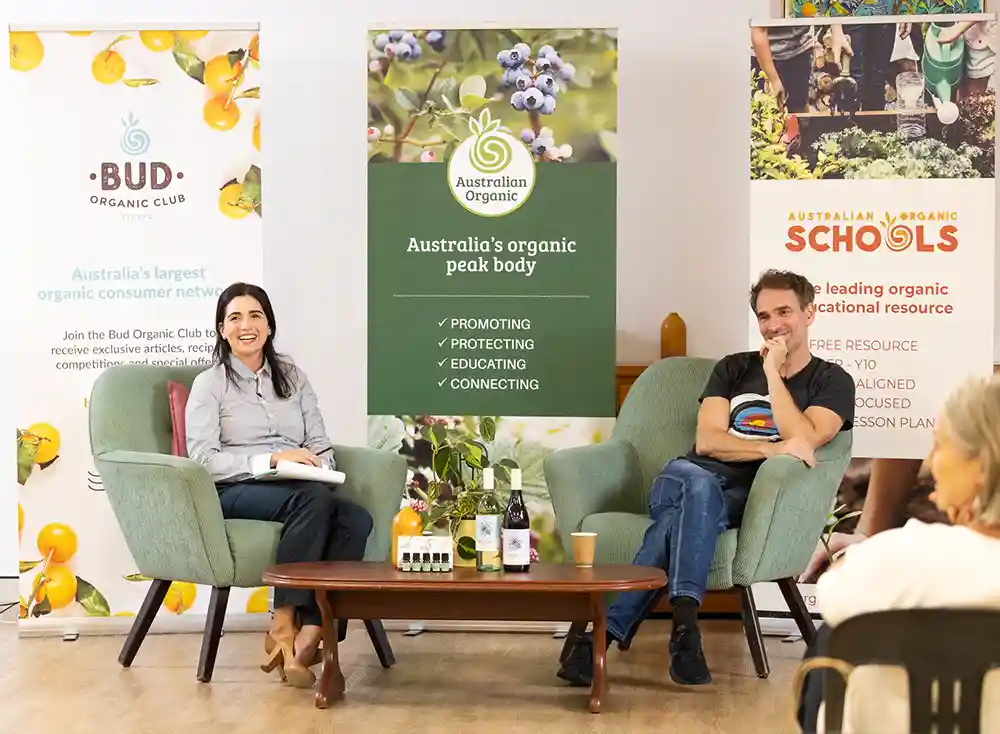 "I wish organic was the only choice", he jested.
With the organic industry agenda including things such as the prioritisation and preservation of farmed soils, why shouldn't organic be the only way? It's an exciting and hopeful thought that our own Australian Curriculum (ACARA) sees sustainability as a priority.
Aiming to increase student and educator awareness on Organic Principles and Practices, the new AOS program explains just how the organic farming philosophy interacts with its Environmental System. Comprised of three interactive units, From Farm to Me; Organic for Brain, Body & Being; and Get Growing, the program educates teachers and students on the whole food cycle including the importance of soil and the benefits of choosing organic.
In closing, Todd encouraged everyone that "you can make a difference", just by being aware and sharing that awareness with others.
After an entertaining and insightful seminar, the evening concluded with drinks, nibbles and cheerful conversations. Those who attended the event were left with actionable steps for how they can live more sustainably and a send of home for the future of sustainability in Australia.
AOL would like to once again thank our seminar sponsors; Perfect Potion and Naturalis Organic Wine.